Vir 2000 jaar het die blou "draad" in die Joodse gebedskleed van die aardbol af verwyn. Nadat Jesus opgevaar het was die blou kleursel waarmee hulle die draad gekleur het net nie meer te vinde nie. Nou dat Jesus se koms naby is het hulle die kleursel afkomstig van 'n spesiaale slak weer ontdek. Is dit 'n verwysing dat Jesus se koms naby is? Hier is 'n foto van 'n "
tzitzit" sonder die blou draad in soos hulle dit gedra het vir bykans 2000 jaar en een met 'n blou draad in hoe dit was in Jesus se tyd en ook nou nadat die blou kleursel weer ontdek is. Die blou draad is verteenwoordigind van Jesus en stel ook Godheid voor.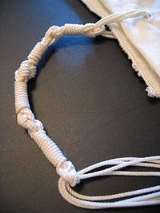 Techelet (Blue Thread)

The Torah commands us to include a blue ("techelet") fringe among the tzitzit fringes. This fringe must be dyed blue with the blood of a shellfish called "chilazon." This rare fish is a denizen of the Mediterranean Sea.
After the Jewish people were exiled from the Holy Land, the chilazon was no longer available. For many centuries Jews wore tzitzit without a techelet fringe.
In the past century, there have been certain venerable rabbis who claimed to have identified the chilazon, based on this fish's distinguishing features described in the Talmud. Since then, tzitzit with techelet has made a comeback, and one can often spot people sporting such tallitot. There are many, however, who have cast doubts on the re-identification of the chilazon.
It was this dye, the color blue that became one of the rarest and most costly of dyes to be obtained in the ancient world. It was known to come from the gland of a snail in the Mediterranean, which disappeared soon after the destruction of the temple in 70 A.D., or the process of how to extract it was lost. Not until 1985, was this snail rediscovered in the Mediterranean. Out of it came the royal purple and the royal blue. It was also this blue dye that was used to dye the blue cord on each tzitzit, which was the hem or fringe of the prayer shawls of the Hebrews as commanded by HaShem in Numbers 15:37.
http://keyboardsforchrist.com/Oct%206.html