Ek was vanoggend al 3uur wakker en gaan kyk toe Discovery World. Die program wat toe wys is "Future Weapons". My mond het oopgehang! Ouens....ons het nie 'n clue van die wapentuig wat tans in ontwikkeling is nie. Wapens wat 'n miljoen rondtes per minuut kan afvuur, wat nie werk met slagdoppies nie, maar word elektronies afgevuur. Hulle het ook nie magasyne nie, maar word agtermekaar in die loop gelaai.

Metal Storm Weapons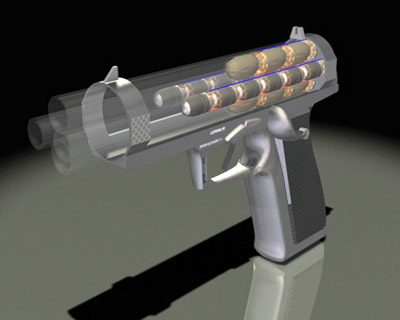 To the human ear, the sound

of 180 bullets being fired in less than one-hundredth of a second is perceived as one enormous noise. And the fact that some people have heard that noise is testimony to the perseverance of one inventor with a unique vision of the future of weapons technology. "They say that half the engineers in the first company that I worked with wanted me to finish my coffee and leave as soon as possible," says Mike O'Dwyer, recalling the way some of his far-reaching ideas were received.
O'Dwyer's revolutionary weapons concept is based on an electronically fired gun-and-launcher design with multiple rounds stacked in a single barrel. The only moving parts are the bullets themselves. Beyond creating an astounding fast-firing weapon, the concept makes way for the creation of entirely new types of firearms. Among other things, it will allow the shooter to select from different types of rounds and even between firing lethal and nonlethal ammunition. O'Dwyer's ideas were initially met with skepticism, but now they are being taken seriously by the military and police.
"Nothing succeeds like actually building something and pulling the trigger or, in our case, pressing the button to show what happens," he tells POPULAR MECHANICS.
http://www.popularmechanics.com/tech...litary/1281426
Read more:
Metal Storm Weapons - Popular Mechanics
http://dsc.discovery.com/tv/future-w...e-weapons.html
Amerika is besig om artilirie te ontwikkel wat sonder enige mens op sy eie in die oorlogsveld kan opereer. Wat self die projektiele laai, teikens uitkies en afvuur.
http://en.wikipedia.org/wiki/File:XM...n_(NLOS-C).jpg
UPDATED August 3, 2005 The Non-Line-of-Sight Cannon (NLOS-C) Concept Technology Demonstrator is the next generation advanced cannon artillery solution for the US Army and it has been clocking up milestones on its fast-tracked road to deployment recently. Designed to move rapidly and set-up quickly, the Non-Line of Site cannon is capable of firing a round every 10 seconds and maintaining a sustained rate of six rounds per minute at ranges of nearly 15 miles. The NLOS-C is a hybrid-diesel aluminium-armored vehicle with extremely quiet 18-inch band tracks. Most significantly, it is far more automated than any mobile cannon in history, with an automatic ammunition-handling system laser igniter and enough robotics to reduce the crew from four to two compared to the Crusader it will replace. It is also half the weight of a Crusader, 30 percent more fuel-efficient and the lead manned ground vehicle system of the US Army's Future Combat Systems program.
http://www.gizmag.com/go/4304/